Guess who's going to PDC Sugar Shack #it was about...
Montreal Poutine Week: Creativity is more than... →
Thought that our favourite 4 a.m. Québécois tradition of Poutine was just for alcohol absorption? From February 1st to the 7th, 30 of Mtl's buzzing joints (amateur and pros of Poutine) will be rolling out the red carper for squish squish cheese and gravy sauce. With part of the proceeds going to the Montreal Canadians Children's Foundation, it's hard to feel guilty about the...
Cupcake Training Camp-for a good cause! →
Well no surprise here, I am going to this event. It costs 20$ with proceeds going to the Tablée des chefs and the Kids Help Phone, gets me 6 cupcake+ a drink and a pre-show to what is to be expected at the Big Cupcake Camp later this fall! I guess I will have to fight crime and save the world one bite at a time this Sunday!
Laurier BBQ cuts ties with star chef Gordon Ramsay →
Well it was only a matter of time before 'shabby-chic' restaurant Laurier Gordon Ramsay spiraled down. My review on the restaurant from a few months ago definitely echoed the sentiments of this article by Lesley Chesterman from the Gazette.  Gordon Ramsay's name will be removed from the venture, as it will be from now, known as just Laurier BBQ. I guess it was too candyland to...
3 tags
Je t'aime en chocolat---An event just for US...
For those who remember, a couple of years back, Montreal had its very own chocolate festival called le Salon de la Passion du Chocolat. It was a a magical weekend filled with aromas, sights and tastes of all things cocoa. This great ode to chocolat has since disappeared and left me in a state of eternal yearning for more sweetness. I even went as far as Bromont ;) for the Chocolate festival to...
Charcuterie-my favorite word @ le Comptoir
Top 5 Reasons why I love this place: 1) charcuterie that is aged in-house with a take-out option 2) la porchetta di testa (can we say melt in your mouth like butter?) 3) local and organic wines that don't taste like sawdust 4) open kitchen so I can salivate while watching my food being prepped, it also helps to distract from the mob of hipsters in the joint 5) surprisingly affordable...
The mother of Hot Dogs with a side of Empanadas
Does this LOOK like a typical hot dog bun covered in layers of mayo, guacamole and a squirt of yellow mustard? Ummm, yea. IS THIS a typical hot dog bun covered in layers of mayo, guacamole and yellow mustard? HELL NAH! Introducing the COMPLETAZO from la Chilenita, your friendly neighborhood Chilean buibui. First of all this hot dog is mammoth size, hence why it's called the...
KanBai- Szechuanese resto with Japanese name
When I lived in the downtown core, which is now Koreatown/Chinatown II, my idea of chinese food were the Wok Cafe and Le roi des nouilles (now replaced by an All you can eat Korean bbq place). While these places still hold a special place in my heart since I discovered salt and pepper shrimp and kung pao chicken there, I am always in search of more. Enter Kanbai. Surrounded by flashy lights and...
You had me at buffalo chicken...
I was reading up on current events and international affairs, and came across this very important news: buffalo chicken mac and cheese, say whhaaa? foodopia: buffalo chicken mac and cheese: recipe here
the Hangover Brunch, a pop-up experience
  I guess before we even get into the meat and potatoes, or in this case the pancetta poached eggs (sorry for that bad joke), I'll quickly go over the PoP-Up concept.  Pop-Up, wassat? According to an article in the The Star: "Pop-up restaurants have been, er, popping up, in recent years in Los Angeles, New York and London. Often the restaurants pop-up at cafés or diners that would...
Dear 3 Amigos, please stop calling!
So obviously I can't describe in such limited time what 3 Amigos does to me every time my shadow touches even the street it sits on. It was funny when I didn't know any better and I was a 19 year old first-year university student. It was acceptable because I had no smart phone equipped with restaurant apps, no laptop to sit down at Cocktail Hawaii with in search of the next most...
The Evolution of Eggs and Bacon
Sunday Brunch. Crucial time between 11:30 and 3pm where life just doesn't get any better. 3 reasons:  a) You don't feel guilty about wasting half your day transitioning from your bed to a brunch place  b) It's the only time where you don't feel obliged to share a table with people you semi-tolerate or dislike like at most dinner parties.   c) where a menu filled with derivatives of...
Because everyone should have one good friend...
So now that you know what the setting was, here is what was in store for the menu: Apéro: Saucisson sec- Jamon de Iberico- Rosette de Lyon Oysters (including our very own Oyster shucker Litt, flown in from the depths of the Laotian marshlands) Entre-met: Foie Gras and pate de coinc (fruit gelée) Plat de résistance: Pan-seared Duck breast, drizzled with balsamic raspberry coulis prepared...
3 tags
Chicken à la beer can
Everyone I know has a trademark recipe. My roomie Dan has his famous secret family recipe meatballs, one of my bffs Zohra has her Algerian couscous and tagine recipe, and yours truly also has a signature dish. These can be dishes that were passed down from generation to generation, or copied from The Joy of Cooking. This is the dish that everyone knows you for. The dish you can never fail, and...
3 tags
3 tags
The revenge of the Pupusas fairy
Having grown up in the "hood" of Parc Ex before moving to suburbian Ottawa, I had several hispanic friends. So churros, empanadas, and fried plantain were no mystery to me. But there was one item from the Salvadorian kitchen that escaped me until my early 20's. Pupusas. When I first heard the word pronounced, I thought it was a doll made of hemp and stuffed with straw that little...
6 tags
Gordon------but why???
Gordon Ramsey was like my James Bond. On Kitchen Nightmares, he's the avenger of evil with his pledge to ransack disgusting kitchens full of rancid meat and sprouty onions. On Hell's Kitchen, he beats the rookie chefs to the ground until they can deliver the perfect beef Wellington. And on Master Chef, he's the stern but kind (eat your heart out Joe) judge who helps amateur chefs...
7 tags
Taco Twoonie Tuesdays
Do you remember Twoonie Tuesdays at KFC? Not the Y-generation one with a drumstick and dried up macaroni salad. I'm talkin' back in da day thicky-thigh/breast/leg, double-fried, gravy-oozing chicken and all the fixins…For those who don't remember, it's better that way. Know of anything that's worth the while and your hard-earned 2$ coin nowadays? Enter Cartel....
3 tags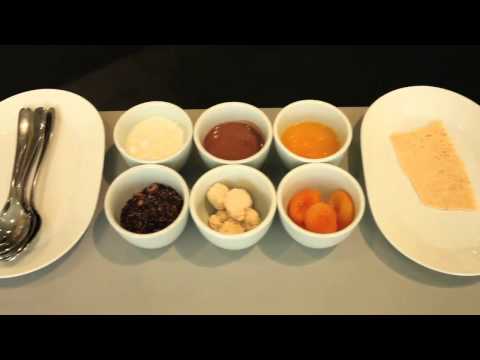 3 tags
Say Cheese :)
Everyone has had THE craving. It's 9 p.m. on a Monday night. You're staring proudly at a plate of baked salmon and wild grain rice you're about to eat as part of kicking off your week to shedding the unwanted extra winter/summer/fall/spring weight you carried around all year. You feel it, it's the beginning of good habits, and you can picture yourself as the girl with wind-blown hair in a white...
3 tags
Wah gwan goat roti?
A tutorial on how to eat a roti the right way. 1. Choose a non-upscale caribbean restaurant, luckily for you, there's quite the selection in the city. My favourite is the Jardin du Cari. They spruced up the place since they moved from St-Viateur to St-Laurent but the velour Guyana poster and fake ceiling plants still grace the walls. Thank God!  2. Check that the place mats are...
3 tags
Not a dying fad if they're THAT fingerlickin'...
Les Glaceurs has IMO the best red velvet cupcakes in town, hands down. I throw it out to all you frantic fooders to find better in the 514. By now, cupcakes are something of a dying fad, overrated and exaggerated! So says WHO NOW??? I pledge to never let my love for sweets be controlled by a TV series of cougars on speed wearing couture. I raise my tall cold glass of 2% milk to all those who push...
4 tags
Banh Mi! Banh You!
2 words: Vietnamese sub. Or Banh Mi as it is more commonly known. The crunchy bread roll filled with meat, pâté and mayo is elevated in flavor by just the right amount of marinated daikon and carrots, fresh coriander and green diced chili. All the elements of sweet, tangy, salty, crunchy and piquant are in one bite.  The question you need to ask yourself is whether to stick with the classic or...
5 tags
For the love of wine and cheese! Kinda...
Montreal, in all its eclectic beauty, is a city of lushes. So no surprise that wine bars and charcuterie comptoirs are popping up in every hipster-dictated district. One of the front-runners of this trend is la Buvette chez Simone. I think part of it's popularity and charm could be attributed to Simone…Who is she? What does she look like? Is she the type of lady who would sit in a parc...
WHAT THE F*** IS FOODING?
Next to my name, in the event I happen to pop up in a bootleg garage sale dictionary, you will most certainly find a perfect synonym: FOOD…but wait, before you throw the F-bomb at me as just another die hard Foodie or a snobby elitist reviewer, let me define this passion of mine further. All my fondest memories with my family and friends have been related to eating with feelings, which in...